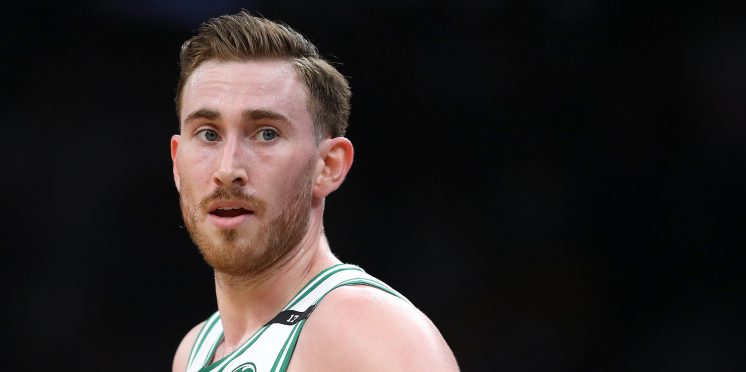 Is Gordon Hayward Returning to his Old Form?
In 2017, all-star free agent Gordon Hayward left his former team, Utah Jazz, to Join the Boston Celtics, who were a contending team, looking to win an NBA championship. Isaiah Thomas was coming off of a breakout season, and NBA fans were dying to see a Thomas-Hayward duo take over the league.
Unfortunately, the NBA fans were able to see the duo for less than 6 minutes: On 2017 opening night, the Celtics were squaring off against the Cleveland Cavaliers, who were fresh off of an NBA finals appearance.
Boston had taken a quick 12-9 lead with just under seven minutes left, however, things only got worse from there. Kyrie Irving, who was also making his debut with the team, after leaving Cleveland in free agency, threw a lob pass to Gordon Hayward, who was cutting to the basket from the wing.
Hayward made an attempt at catching it, however, LeBron James and Tristan Thompson were right there. The two Cavaliers jumped at the ball from opposite sides, sandwiching Hayward, before the 26-year-old slammed onto the hardwood in an awkward position. Just like that, Hayward had broken his left ankle and was not to return for the rest of the season.
The Celtics, without Hayward, still managed to sneak up to the 2nd best team in the eastern conference, with a 55-27 record. They made a surprising run in the postseason, which came to an abrupt ending as LeBron James and the Cleveland Cavaliers beat them in seven games in the eastern conference finals.
Hayward came back to play in the 2018-2019 season but did not look like his all-star self from two years prior. He averaged just 11 points on 47% shooting. This was enough to be a starter, but not close to his days in Utah when he averaged 21 points per game. Fans began to speculate whether or not Hayward would return to his usual self, and many were upset that the Celtics were paying him over $22 million for average production on the floor.
Now that another year has gone by, Hayward is looking healthier than ever. He started off the season on fire and is looking forward to a bounce-back year. This season Hayward is averaging 19 PPG, along with career highs in rebounds (7.1 per game) and assists (4.1 per game). He even sent out a message at Rocket Mortgage FieldHouse (formerly Quicken Loans Arena), where his ankle injury all started, with an incredible 39 points, 7 rebounds, and 8 assists. He became the first player since the 3 point line was implemented in 1979, to go 16-16 on shooting from inside the 3-point arc.
He is continuing to score the ball at will and is not afraid to attack the rim. Hayward looks like he could easily be back to his former self for this young season, if not more.
---