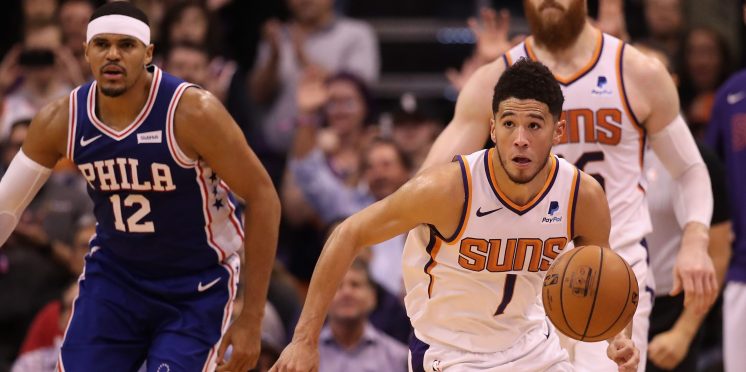 From the Bottom to the Top: Phoenix Suns
The 2010s decade hasn't been so nice to the Phoenix Suns. In fact, they have not qualified for the postseason since their 2009-2010 campaign. After losing to the Lakers in the conference finals, Steve Nash left the team, and set up the Suns for a full rebuild… one that would last almost a full decade.
The Suns have made some solid moves this decade, for instance, drafting Devin Booker. Booker has been the team's anchor for a while now, and is only twenty three years old. Through his five year career so far, Booker has averaged over 21 points on great efficiency; scoring at a 43% mark from the field. Last year, centre DeAndre Ayton was drafted first overall by the team, and performed quite well based on his circumstances. The Suns were often criticized for not feeding the ball to Ayton enough; his talents seemed almost wasted at times, and a reason for that was because the team lacked a pass-first point guard. Devin Booker is a great scorer, but does not yet excel in passing.
There was doubt heading into the offseason: The Suns management has failed to sign or trade for an all star since the Shaquille O'neal trade in 2007, a do or die season for Phoenix, as their players were getting up in age. However, Phoenix managed to land Ricky Rubio; a veteran point guard whose stats have been quite consistent over the years. This may not appear to be a giant splash, although Rubio was exactly what the team needed: A pass-first point guard.
Rubio instantly filled his role to perfection this season, feeding the ball down low for DeAndre Ayton, while Booker was creating shots for himself, and shooting perimeter jump shots. Ayton's stats instantly leaped, as he is now averaging 18 points and 11 rebounds per game. Unfortunately, Ayton has been suspended 25 games for violating the NBA's anti-drug policy, and won't return until late December.
In the meantime, it looks like the Suns have figured out how to win games, even without Ayton. They are 5-2 this season, good for 2nd in the western conference. That is a huge leap from last year, when they finished with the worst record in the west. They even picked up a couple of signature wins, including against the almighty Clippers and breaking the 76ers undefeated record of 6-0 to begin the season.
The 2019-2020 season should be a good one for Phoenix basketball fans, and it looks like Devin Booker could pick up some good playoff experience along the way, just in time for his free agency.
---