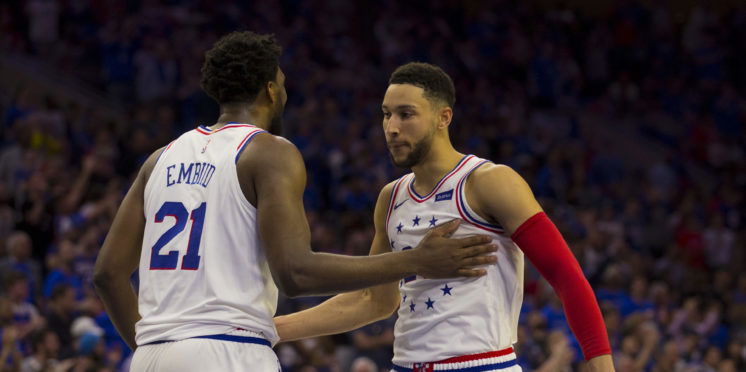 Embid & Simmons; Can they win together?
The Philadelphia 76ers has probably the most passionate, yet complicated fan base in all of sports. We have the Dr. J era Sixers fans who were hyper-critical of A.I. for not winning a championship, the Sixers fans who rooted for other teams when A.I. left only to come back to us after we won 50+ games in 2017, and lastly, we have the fans like myself, who stayed loyal during the brutal process years. We acknowledge that Sam Hinkie died for our sins, we subscribe to the great Rights To Ricky Sanchez podcast, and we cried a little when Dario, Cov, and TJ left.
YouTube: Ben Simmons needs to change teams, get away from Joel Embiid – Max Kellerman | First Take
Now that we've proven to be one of the elite teams in the NBA and the annual excitement in anticipation of the NBA draft lottery is in our rearview mirror, we have new debates to indulge in. I try not to entertain these silly debates because I for one remember vividly of the times we rolled out a core of Jrue Holiday, Evan Turner, and Spencer Hawes. The newest debate is Ben Simmons vs Joel Embid; and are they compatible? The pro-Ben argument, while both sides arguments being nonsensical, is just pure absurdity. They propose trading Embid for a player that "better" compliments Ben's strengths. Let's unpack this thought for a sec. First, who can the Sixers trade for that will offer similar production while also complimenting Ben's strengths? Purely numbers, Anthony Davis is the only other big that would make even a lick of sense. Even then, it's an idiotic trade for the Sixers, not only do I believe Embid is better, but Embid actually wants to retire in Philadelphia. There's a high possibilty Anthony Davis, a free agent, may leave to play for his hometown Bulls next summer. Secondly, Ben and Jo only played together for two years and they've won 50+ games in both regular seasons while also reaching the semi-conference Finals. Give them time to truly mesh, to understand what gets each other going.
The pro Embid fans argue that Ben Simmons inability to stretch the floor stagnates the offense in crucial moments of the game. To be honest, there's some validity in that argument, however, everything else Ben brings to the team is invaluable. He's a 6'10 freight train with Magic Johnson like court vision who's capable and willing to lockdown the opposing star. Although there's truth to both arguments, the 76ers have 2 of the world's best 15 players on its team and trading one would be simply incautious. Especially this early in their respective careers.
YouTube: Joel Embiid & Ben Simmons Best Plays | 2018 NBA Playoffs
I wholeheartedly believe that Ben Simmons with a jumpshot, a fully healthy, well conditioned Joel Embid are the most unstoppable duo in the league. Now throw an elite scorer like Tobias Harris, elite two-way players like Al Horford and the up and coming Josh Richardson, the 76ers are primed for multiple trips to the finals. Just wait and see.
---