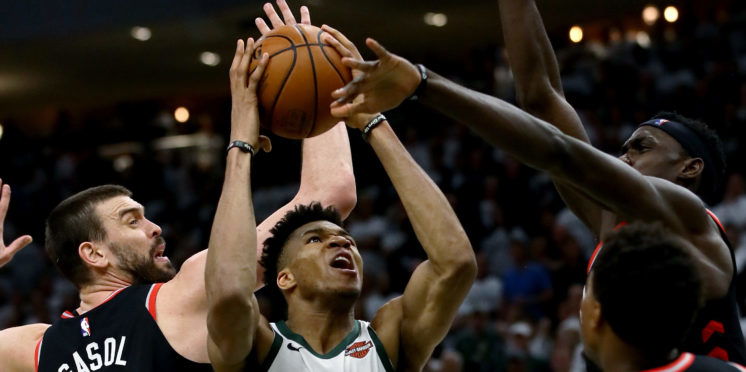 Milwaukee takes a 1-0 lead over Toronto in the Eastern Conference finals
The Milwaukee Bucks may not have been at their absolute best on Wednesday night but they did what all potential champions do when they aren't playing at 100%; they won anyway.
The Bucks defeated the Toronto Raptors 108-100 in the first game of their Eastern Conference finals series but the victory was hardly a comprehensive one and the series still looks wide open and as those who bet with bet-nj will be fully aware, the Raptors should not be completely written off at this early stage.
At this stage of the year, a lot of teams would welcome a full week without a game as it allows their players a chance to rest and recover but for the Bucks, a team which relies so heavily on precision timing, the week's lay-off looked like it had upset their usual clockwork-like rhythm.
Giannis Antetokounmpo, arguably the player who relies on rhythm the most, wasn't at his best after the long break, but in the end, it did not matter as Milwaukee once again proved just how difficult they are to beat.
The win takes the Bucks' post-season record to an impressive 9-1 and whilst Wednesday night's victory wasn't exactly a display of Milwaukee playing at their free-flowing best, it was another example of how awkward they can make life for the opposition.
Toronto will be pleased with certain aspects of their own performance as they look forward to Game 2. Their high IQ offense, complete with their constant switching of scheme and tactics, worked well at times and when they took a ten point lead in the third quarter, they'll have had high hopes of leaving the Fiserv Forum with a 1-0 series lead.
However, the Bucks, led by Brooks Lopez and his 29 points, fought back and figured out the best ways to attack Toronto and most impressively, they did it without making major changes to their own way of playing, something that Lopez himself was all too quick to mention at the post-game press conference, almost like he wanted to show how proud his team are of being able to win whilst sticking to their game plan.
Built upon a foundation of a strong defense, the Bucks proved just how difficult it will be to beat them in a seven-game series and the Raptors will be searching for answers on how they can get themselves level at 1-1 in the build-up to Game 2 this weekend.
---