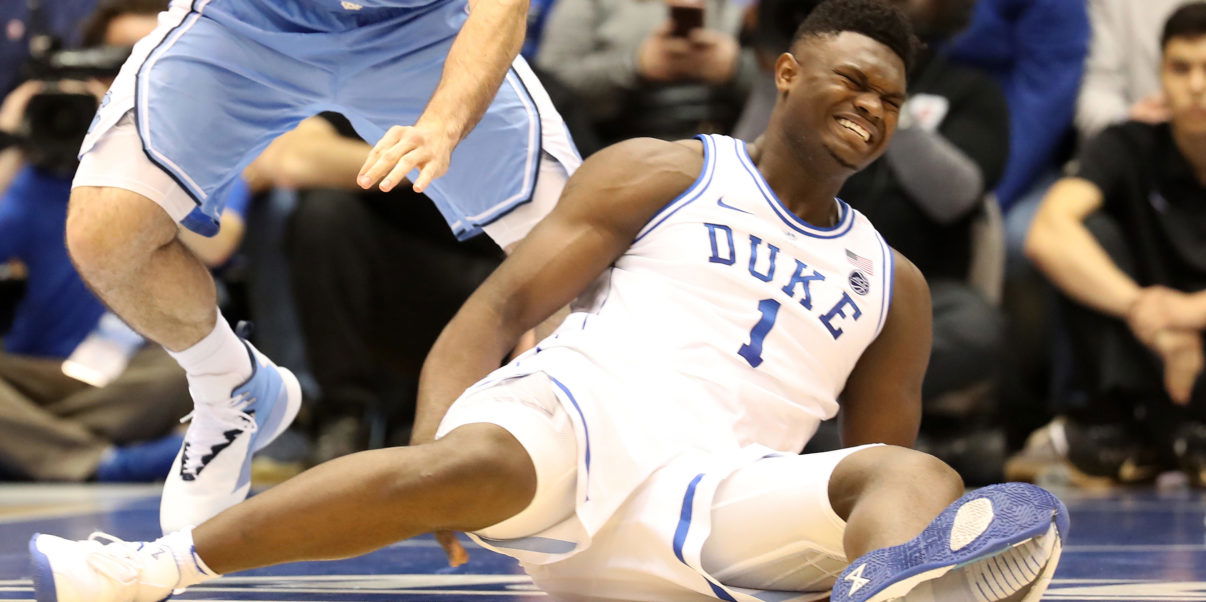 The One-and-Done Rule Controversy
The NBA's one-and-done rule, established in 2006, is a rule that prevents basketball players from going straight from high school into the NBA. The rule states that college basketball players must spend one year, whether that be at a college, a G League team or overseas, before being draft eligible. It is the topic of much debate and controversy in that in almost every other profession, prospects can enter the workforce right out of high school if they choose to do so. Also, when a high profile college athlete such as Zion Williamson experiences a knee scare (when he tore open his shoe), debate sparks up again on whether or not he should have been able to enter the NBA earlier and gotten money immediately. The rule restricts players from directly securing their long term money before a devastating injury potentially occurs, but it also provides development for these college athletes who could increase their draft stock.
Experts who are against the one-and-done rule point out that Kobe Bryant, LeBron James, and Kevin Garnett all left high school and embarked straight to the NBA, where they all had terrific careers that included multiple championships and other achievements. Kobe won five rings and an MVP. LeBron has won three rings and four MVPs. KG also has a ring, and these three players are the faces of their generation. Then the supporters of the rule point out Kwame Brown, DeSagana Diop, Korleone Young, and Eddy Curry as players who went to the NBA too early and were not physically or mentally ready when they were entering the league (Andreozzi). Most people don't even know these players, which illustrates the point.
While current reports say that the one-and-done rule will be abolished again by 2022, for the next few years, there will always be arguments for and against certain players to skip college and head straight into the NBA (Reynolds). Recently, some college players have shown NBA-ready skill sets which makes it safe to say that they could have skipped college and would have been fine in the NBA.
Anthony Davis, Ben Simmons, and Zion Williamson are three players who recently come to mind who did not need to waste a year in college before turning pro. Davis averaged 14 points, 10 rebounds and 5 blocks on 63 percent shooting in college while shooting only eight shots per game with an insane Player Efficiency Rating (PER) of 35.1 (sports-reference.com). To put it in perspective, the average PER in college is around 15. And in his first year in college, Davis led Kentucky to the national championship.
Next, there was Ben Simmons, who had a much worse freshman season with LSU. Simmons had a phenomenal season, averaging 19.8 points, 11 rebounds, 5 assists and 2 steals on 56 percent shooting and an impressive 29.1 PER (sports-reference.com). However, LSU did not even make the NCAA tournament. When Simmons played, he looked uninterested. Probably because he was just frustrated he couldn't go straight to the league.
And then we have Zion, who is currently the most electrifying player in college basketball, putting up crazy numbers of 22 points, 9 rebounds, 2.1 steals and 1.9 blocks on an efficient 68 percent from the field with a ridiculous PER of 41 (sports-reference.com). Zion is 285 pounds of pure muscle and is already more athletic than more than 90 percent of the NBA. Right now, if he were in the NBA, he would be the second heaviest player in the whole league. He has been restricted to play a season in college, unpaid (although he was probably given some money under the table), with the risk of getting a career-altering injury. The situation was perfectly illustrated when he tore through his shoe against North Carolina and suffered a knee strain that held him out a few weeks. The idea that Zion could have sustained a life-changing injury before he was paid a dollar for playing basketball started another round of one-and-done debates, and rightfully so.
On the flip side, there are players such as John Collins, a 2017 draft pick out of Wake Forest selected in the first round by the Atlanta Hawks. Collins was lightly recruited out of high school, and his freshman season at Wake Forest was one to forget. He averaged only 7 points and played just 14 minutes. But after staying another season playing college basketball, he erupted in his second season, averaging 19 points and 10 rebounds on 62 percent shooting (sports-reference.com). It was evident that staying in college had helped him tremendously, and he was selected with the 19th pick, getting a multimillion-dollar deal (basketball-reference.com).
Murray State's sophomore point guard Ja Morant is a perfect comparison to John Collins. Morant had a decent freshman season, mostly setting up his teammates while not really looking for his shot. If he had declared for the draft, there was a very good chance he would go undrafted and would have a difficult time jump-starting his basketball career. But in his sophomore season, Morant broke out and nearly doubled his scoring average to 24 points while averaging 10 assists and is now regarded as the next best draft prospect after Zion (sports-reference.com). He correctly used college to advance his skill set and is now seeing the results play out in a significant way.
The college one-and-done rule affects more than just the players, though. I interviewed SLAM magazines' social editor Isaiah Freedman, who also works with Syracuse's Men's Basketball Team and the NBA Summer League, to gauge his opinion on the subject. Freedman acknowledged that the one-and-done rule had to be looked at in every possible way as it is a case by case topic, and context is necessary.
"Look at almost every other profession. You want to be an engineer, plumber, electrician; you don't need to go to college," Freedman said. "You can get paid immediately. Of course, the counterpoint is, if you want to be a doctor or lawyer, you need to go to law or medical school. So which one does the NBA apply to? It's an interesting question. In my opinion, though, players should have the power to make that decision on whether to go pro or not. They should not be forced to spend one year in college or in the G League when they have the opportunity to make a lot of money with an NBA team. Guys like Zion and Ben Simmons wasted a year of basketball that could have been spent making millions of dollars with an NBA team. And in Ben's first year, he broke his foot and missed the entire season."
Again, the players deserve the choice, but the one-and-done rule also affects teams, scouts, and general managers who want as much film and data as possible to review when assessing a prospect. This has lead many NBA executives to be against the possibility of the NBA eliminating the one-and-done rule because it means that they would need to massively expand their scouting resources to not just the hundreds of colleges, but thousands of high schools. It makes their jobs much more difficult and means there is far less information to work off of when making a franchise-altering decision. Also, the younger a player is, the more difficult they are to project years down the line. Zion is already old enough where it is evident that he's going to be a great NBA player. On the other hand, there are also players like Seventh Woods who gained massive amounts of hype in high school as one of the most athletic and unstoppable guards in the nation, but once he arrived to North Carolina three years ago, he has been a benchwarmer (Brown). However, eliminating the one-and-done rule means smart teams have more opportunities to find diamonds in the rough and can draft a player they see potential in very early.
One of the main issues with the one-and-done rule is money. The goal of most people is to have enough money to provide for themselves and their families, and while there are surely college athletes being paid under the table to go to college, a vast majority of college athletes are not paid anything while their schools make millions of dollars off of them. Freedman named UConn guard Shabazz Napier as an excellent example of this.
"You may remember Shabazz Napier from the 2014 UConn Huskies," Freedman said. "He's now a member of the Brooklyn Nets, but his college experience was an indictment of the NCAA. It was during his senior season where he was UConn's best player and leading them in scoring and assists. He ultimately won them a title and millions of dollars. But in one press conference, he revealed that he was going to bed hungry every night, living off Cup-a-Noodles because the school refused to pay him. It reflected extremely poorly on college basketball's lack of a payment system."
Freedman raises a very interesting point, and with that brings even more questions. If players were to get paid, would a player like Zion be making the same amount as the worst player on the team? If not, would there be a point incentivized system? And if there was, would that be good for the team with players not passing as much trying to make more money? Again, the whole system is a mess. One viable solution, however, is to allow college players to profit off their brand while not directly paying them. To do this, colleges would need to allow players to sign endorsement deals and profit off jersey sales. That way, schools are not forced to pay players, but truly good players will be able to thrive and make money while experiencing all the other benefits of college such as free education, access to state of the art facilities, and fan bases that are much more passionate than the fans of NBA G League teams.
Then there is also a situation that takes the potential of Zion's knee injury scare and turns it into reality. Just last year, Michael Porter Jr. was seen as the best college basketball player in the nation after leading Nathan Hale High School to a state title. But before playing a game at Missouri, Porter Jr tragically broke his back and was never the same. When it was time for the draft, he slid all the way to 14th. To put that in perspective, the 1st pick in the draft is guaranteed $40 million over four seasons, while the 14th pick is guaranteed only $15 million. That is a $25 million difference that could have been avoided if Porter went straight to the NBA (hoopshype.com).
And while colleges do have very respectable facilities, the NBA ones blow college out of the water. College players are fed substandard food, and their facilities are much smaller, whereas NBA teams have their own private chefs, private jets, five-star hotels, multiple strength and conditioning trainers, nutritionists, sports scientists, and scouts while some colleges only have a single strength coach. Also, college players are mostly training against each other and team managers whereas, in the NBA, these young prospects will be playing against grown men every day in practice and getting training from fit assistant coaches who devote their lives to their professions. The differences are endless, and they mostly give the NBA a huge advantage.
Freedman acknowledges he believes players should earn as much money as possible because nothing is guaranteed in life, and he does not believe that college basketball would lose its hype without one-and-done prospects.
"College basketball will always be a powerhouse. It will always have March Madness, which is a global phenomenon and besides schools like Kentucky and Duke, most teams are led by veteran players who were going to play college regardless because they are not quite good enough for the NBA. Many great college teams have guys who are never good in the NBA, but that doesn't mean they aren't great in college. And fans will always cheer on their colleges no matter who is playing for them. Does a player like Zion make Duke and college basketball more exciting? Of course, but that doesn't mean the sports won't survive without him."
Ultimately, the NBA should eliminate the one-and-done rule not because the college basketball system is broken, but because players should be able to decide whether to go to college or go straight to the NBA.
---