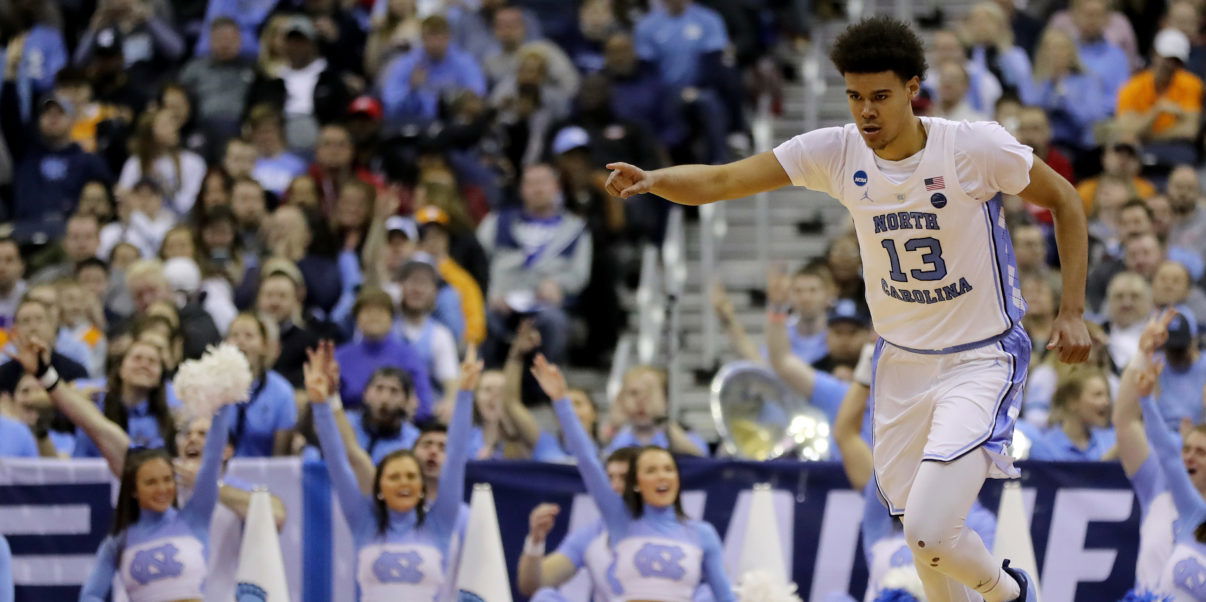 The hidden gem coming out of UNC
North Carolina's Tar Heels have been one of the staple college dynasties in sports for decades. I had the pleasure of sitting down with UNC's Cameron Johnson last summer, months before his final season. As a Graduate Student, Johnson knew he had to stay focused on and off the court. Coming from chilly Pittsburgh to sunny Chapel Hill after his junior year and fitting in was something Johnson had little to no problem with. "To have someone who genuinely cares about you is more rare than you might think, and it's very special," said Johnson about the relationships he has built immediately with his coaches and teammates. "Me and Luke [Maye] used to walk the same route to classes before practice, and it helped me get adjusted to the campus vibe quickly" said Johnson. Using the graduate transfer rule, Johnson was granted two years of eligibility from transferring after his third season with Pitt (redshirting freshman year due to his shoulder injury gave him that flexibility) and used that experience to grow into a leadership role. This means that unlike other players such as Luke Maye and Kenny Williams, Johnson was not part of the team when UNC won the national championship in 2017. When asked about overcoming adversity, Johnson didn't have to think more than half a second before mentioning their recent tournament loss to Texas A&M in the 2nd round. The Tar Heels were obliterated, losing by by over 20 points delivering Roy Williams one of the most brutal defeats in his coaching history. Johnson himself had a lousy game, shooting 27 percent from the field and going 1-7 from downtown. "A couple bad plays can lead to more bad plays and your season is over" explained Johnson. This was exactly what happened, as the Aggies used a 15-0 run to carry them to victory.
"It really renewed our focus for this year," says Johnson.
Johnson had had a positive experience so far at UNC and was hopeful for the future. He was currently recovering from a hip procedure after having several injuries such as a torn meniscus in his left knee and back problems last season. Johnson is praying that he will be in a better spot physically by the time this upcoming season starts. When discussing his hip surgery, Cameron shared a personal story about a visit he had with head coach Roy Williams. Williams left a press conference early in order to visit Cameron in the hospital following his procedure.
"The biggest thing I take from the coaching staff is their care," the player admitted, admiring the coaches for their involvement in his daily life. Johnson mentioned being in a good mindset and feeling comfortable about entering the new season, in part thanks to the encouraging environment of UNC basketball.
"I was really embraced by Carolina when I got there, which was a special thing and special to me. I'm very grateful," said Johnson.
Although the 2019 basketball season may had seen far off, freshman recruits had already arrived on campus and were working hard alongside their new teammates to assure that UNC would have one of the successful basketball seasons that they are so notorious for. Johnson referred to the freshmen as having desire, heart and confidence. He is ready to step up to his position as a mentor, and hopes that he, Maye, and Williams can fill the hole that Theo Pinson and Joel Berry II, two seniors, left in terms of leadership. Carolina is family to Johnson personally, and he has shown commitment to this during the offseason, even if he is injured. Going through a day in the offseason is a large amount of work, and the incoming freshmen who Johnson plans to mentor this season are already jumping right into the mix. The offseason focus shifts, as Johnson is not practicing with head coach Roy Williams as much. "Getting our bodies right and skill work" responded Johnson when questioned about the offseason work that the team goes through.
"It's all about approach and confidence," said Johnson when questioned about what advice he has for freshmen. However, he also wanted to warn freshmen that they must prove themselves, because Coach Williams won't hand anything to them. All of the players are working to improve their skill set this summer with a rigorous daily schedule that includes 7:00 a.m. weight lifting and stretching, going to class, shooting and doing pickup with assistant coach Hubert Davis at 3:00 p.m., and finishing the day by going out to eat as a team. Johnson praises the diligence of his returning teammates and says that it is paying off.
"All the guys from last year have been putting in a lot of work and getting better," he admired.
Johnson reigns from "Our Lady Of The Sacred Heart" High School located in Pennsylvania. "I was always smaller, 5 foot 8 my freshman year" Johnson stated. He was a three star recruit, and didn't receive his first offer until junior year and didn't commit [To Pitt] till April of his senior year. Johnson was a solid player during the 2017-18 season, scoring 20 or more points three times, including a 32 points burst at Clemson, shooting a scorching 60 percent from three in the previous season. He shot very well from the freethrow line, delivering a more than stellar 85% average from the foul stripe although he stated that he had experience with handling extra stuff in his field of vision when shooting free throws. Johnson's steady 12.4 points a game and 38 percent clip from behind the arc are not the only aspects he believes he can improve for himself.
When asked about whether the team will continue to play small ball and what he thinks his role on the team this coming season will be, Cameron admitted that he had no idea.
"It's all up to coach," he said. Coach Williams is well liked and respected by players and Tar Heel fans alike, having led the team to two national titles in 2009 and 2017. Johnson has high hopes for both his coaches and his team for the upcoming season. He is confident that regardless of the plays Roy Williams decides to use or the players he puts on the court, the coach will set the team up for a season that will hopefully lead them to Johnson's first national championship. Johnson points out the following as his goal for his last season as a Tar Heel, and one that he believes can be obtained with focus and dedication.
With the loss of Joel Berry and Theo Pinson, Johnson was given the ability to grow off of the court as a captain. With star studded freshmen such as Nassir Little and Colby White, Johnson had already started to guide them through their school and athletics from the second they stepped foot onto Chapel Hill. "They have already started their classes and they are doing the best that they can. They are taking it very seriously" stated Johnson. "The freshmen are very skilled, and will gel together with the team well". Johnson also illustrated how the freshman have heart and confidence, aspects that coaches can't teach, and how quickly they can get up to speed. These are attributes that coaches look for in recruits, because they provide a winning mentality which rubs off on the entire program, a program that is one of the most historic and respected college basketball franchises.
Hundreds of thousands of fans have followed the franchise throughout their ups and downs, one of them being North Carolina native Josiah Huband, who has found a love for Johnson's game. "He's my favorite player in college basketball right now" Huband exclaimed, "He's just a good kid and plays the game right". Huband has been a North Carolina fan his entire life and has been a die hard fan since he came out of the womb, with both his parents being fans since the early 1990s.
"Duke? I hate Duke" muttered Huband, as every UNC fan should.
Duke and North Carolina have the most famous rivalry in college sports and arguably the most famous in basketball. As the Lakers vs Celtics rivalry has had its moments throughout time, the Duke and Carolina rivalry has had theirs. Compared to Duke, North Carolina's basketball program is known to have less of a one and done trend and instead take the time to develop their players for multiple years. "They use the game as a rental to get publicity, as most of the one and done players chose Duke" Huband stated, and Johnson is a perfect example of this, improving his overall shooting percentage by more than four percent and his shooting percentage from behind the ark by a staggering 11 percent. "I can improve on every aspect of my game" Johnson stated before the season, and he has truly lived up to his word.
Johnson's 2019 shooting chart is highlighted by his outstanding percentage from the left wing. Being right handed, it allows Johnson to be more accurate on the left side of the court because he can step into his shot better with his right foot being his dominant foot in his shooting stroke. "I have always favored the right side (left on the chart) and corner of the court as it allows me to flow right into the rhythm of my shot" Johnson explained, and it is clearly evident in his percentages. Although his shooting is superiorly better on the left wing, Johnson can still light it up at a strong clip from anywhere on the court. Not only draining the 3-ball, but also making dynamite touch passes in transition to Maye for buckets in transition, as well as being active on the backboards and engaged on the defensive end. Huband has compared Johnson to the likes of Klay Thompson, someone who has range, a solid stroke and can defend at a high level. Klay scored 60 points while only dribbling 11 times, a perfect showing of his ability to move off the ball. Johnson never actively hunts his shot. It always seems to be in the flow of the game which demonstrates how he moves off the ball so well.
"He is a pure shooter, he has one of the purestest shooting strokes I have ever seen" Huband said. "I can see Johnson being a 3 and d player, someone who can be relied on to stick to his role".
When asked about an attribute that Jonhson possess that is unteachable, Huband elaborated on his leadership."When Coby White missed the game winner against duke, the first thing Cam did was pick him up," Huband stated. "He is the oldest on the team and he brings a lot of perspective to the court and the classroom". Along with mentoring the young guys on the team, Johnson has taken ownership of being a leader towards the older guys as well.
"A lot of fans are crediting Roy Williams for the success UNC has had this season but you gotta give credit to Cam and the older guys on the team who are sharing the ball with the younger guys," Huband said.
One of the key elements to poor development is lack of experience, and that comes with failure. Sacrificing shots for younger guys on the team is something that takes character, and Johnson is a great demonstration of that.
Johnson is motivated to work harder, be there for everybody, but most importantly, be a mentor. Carolina is family to him and he thinks something so unique as that changes how he looks at College. Look out for Johnson to be on the radar in the lottery to late first round in the upcoming draft. Not only will whatever team that draft Johnson be getting a knock down shooter who can defend at a high level, they will be getting a humble player who is coachable and knows his role. However, Johnson does not have a ton of upside to his name. "He is going to be one of the safer picks in the draft," Huband explained "He could definitely get a bit quicker, being a wing in the NBA you need to be able to switch". I agree with this one hundred percent. At the NBA level, all teams switch at a high amount, and you need to be able to cover much more than just your position. That being said Johnson has a humble game, and will be name to watch out for in the upcoming summer league. I, along with Huband, will be rooting for Johnson along with thousands as others as he is at the final stage of his journey- or is he only at the beginning.
---