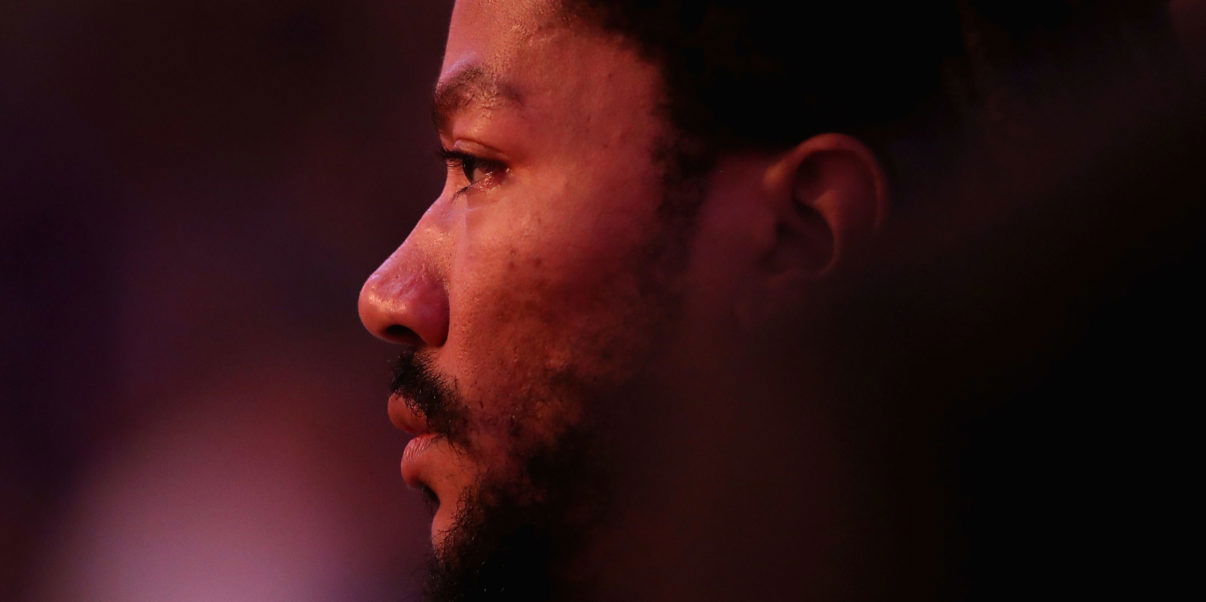 The Rose That Bloomed In Chicago
Derrick Rose, NBA Rookie of The Year, NBA All-Rookie Team, All-NBA Team, and the youngest Most Valuable Player award winner in NBA history. Born on October 4th, 1988, in Chicago, Illinois. Rose had a tough childhood, being raised without a father in a rough Englewood section of Chicago along with his 3 brothers. Rose's brothers, Dwyane, Reggie, and Allan took on the fatherly role of their youngest brother especially in times when it was needed the most.
By the time Rose was 15, he enrolled himself at Chicago's Simeon Academy and rapidly became known as one of the best high school players. In Rose's senior season, in which he was ranked as the number one high school point guard in the entire country, averaged 25.2 points per game and took his team to their second consecutive state title with an impressive 33-2 record for that season. After this ridiculous performance, the Chicago Tribune newspaper had granted Rose with the "Illinois Mr. Basketball Player" award.
The Chicagoan point guard chose to take his talents to the University of Memphis and play under head coach John Calipari who is now one of the most successful college coaches of all time. When Rose attended, he didn't waste any time before leaving his mark in NCAA basketball. In his freshman year at Memphis, Rose led the Tigers to an outstanding 38 wins, the most wins in NCAA history. He carried his team to the national championship where they were sadly beaten by the Kansas Jayhawks in overtime. After this short but illustrious college career, Rose declared for the NBA draft where his hometown team the Chicago Bulls took him first overall.
During the 2008-2009 NBA season, Rose averaged 16.8 points and 6.3 assists per game and took this Bulls team back to the playoffs to earn himself the NBA's Rookie of the Year. Over the next couple years, Rose was asserting himself as one of the best players in the league and certainly one of the most exciting players to watch with his high-flying dunks and killer crossovers and rapid speed.
The 2010-2011 season. Where everything that shouldn't have happened, happened. This was Derrick's best year so far, averaging 25 points, 7.7 assists, and 4.1 rebounds a game. He carried his team to the playoffs once again this season but it didn't all turn out the way it should have.
It was the first game of the 2010-2011 playoffs, the Chicago Bulls were playing against the Philadelphia 76ers in a game that looked to be more than over and Rose should not have been in. With only 1:25 left in the game and the Bulls up 99-87, Rose drove into the lane and made a hop step move and came down with a serious knee injury. After this injury, the Bulls would go on to lose this game, and Rose would be forced to miss the rest of the playoffs and 43 games in the following season and the entirety of the 2012-2013 season. Rose had suffered a torn ACL which would haunt him for the rest of his career.
Till this day, Derrick Rose has suffered so many injuries that he has missed almost as many games in the NBA as games he has played in, over the last 10 years. Rose has played in 546 games and has missed 495 other games. It has been very tough watching the former MVP get hurt and then make a comeback and then leave again due to injury for many years. Since his MVP season, NBA fans, coaches, and managers all thought that his career had been finished and that there was no chance that he will never regain his success in the NBA.
Towards the end of Rose's season with the New York Knicks–where he was putting up 18 points per game–he suffered yet another knee injury. This time, it was a torn meniscus. Rose still hadn't given up. He would train harder and harder every day in the offseason to prove to the haters that despite the injuries, he can still play basketball at a professional level. During the offseason, Rose had signed with the Cleveland Cavaliers, where he would pair up with other superstars in Lebron James, Dwyane Wade, and Kevin Love. Rose had said "I was just trying to make it back to the league, man," Rose told The Athletic. "I had to sign with a team that I had battled with for four or five years. I played with a player I battled with for four or five years in LeBron." Individual success didn't matter as much anymore to the former MVP, he was hungry for a championship.
After a couple of months with his new team, Rose had a suffered yet another injury, this time tweaking his ankle after a hard fall on a layup attempt. After taking some time off to recover, Rose went back to work and tried to make another comeback. During this time, Rose had left his team to handle some personal issues. Rose was set to have no timetable for his return to the game and he had stated that he needed to "evaluate his future in the NBA." The injuries had taken a huge toll on Rose's mindset and his focus on his success and well being and he didn't know if he could endure it anymore. Rose had finally come back in mid-January to try to show that despite his recurring injuries, he still wants to help his team win.
During Rose's short career with the Cleveland Cavaliers in which he only played 16 games, Rose was traded to the Utah Jazz where he would be waived from the team and was left waiting for a team to look at him and give him another chance. After restlessly waiting, Rose had found himself on the Minnesota Timberwolves. The Timberwolves were making a playoff run and this was Rose's chance to finally help a team win. In Rose's first playoff game with his new team, he put up 16 points, 4 assists, and 2 rebounds off the bench. Fans and players were happy to see that he could still play and he just wanted to win. The Timberwolves would end up losing that series to the Houston Rockets and their season was now over.
In early July of 2018, Rose agreed to a one-year deal with the Timberwolves for a veteran minimum of $2.4 million. This contract agreement for a player of his caliber and the success that he had only shown that he doesn't care about the money or the individual play but only about the success of his team and he is willing to do whatever to help.
Rose's new position with this team was the sixth man but would occasionally swap with the starting point guard position. During the beginning of the season, Rose was shocking fans and management with his impressive performances and the ways that he was still able to be so athletic and finish so gently around the rim.
On October 31st, the Minnesota Timberwolves were facing off against the Utah Jazz, the same team that had waived Rose in the prior season. Rose was taking on the starting role in this game, something that he is used to doing. Rose finished this game with 50 points, 4 rebounds, and 6 assists. This was a new career high in points for Rose and it was the rebirth of his basketball career. Rose had only scored more than 40 points in a game three times, and all three came from his 2010-2011 MVP season. As the buzzer sounded–right after Rose had blocked the game-tying three-point shot attempt from Dante Exum–Rose burst into tears and couldn't hold back any emotion after all of the struggles he had gone through.
After this performance, Rose was asked what this game meant to him. Rose responded with, "everything man, I work my a** off. I went out there and did this for the fans, the franchise, the organization, and everybody. Without them, I wouldn't be able to play the way I play." Rose was then told that he looked like his old self out there, and was asked what it felt like for him from beginning to end. Rose responded with "I'm doing anything just to win man, I play my heart out, my teammates told me before the game to just play my game and tonight was a hell of a night." Rose truly proved everyone wrong that night, that this was just the beginning of his next chapter and that he was only getting better and he just needed the right opportunity.
Rose would go on to average 18 points, 4.3 assists, 2.7 rebounds and 27 minutes per game mainly coming off the bench. This was Derrick's best season since the 2011-2012 season. One of the main things that he did to his game that helped him a lot and surprised the world was that he was now a lights out shooter from beyond the arch. Before this season, Rose's best percentage from three-point range was 33.2%, and this took place during his MVP season. This year Rose shot 37% from three-point range and it sparked a new playstyle for him and it made it even harder to defend against him.
The way that Derrick Rose played this season was not only entertaining and amazing to witness, but it was inspiring and motivating. He showed that no matter how hard things get and no matter what slows you down, if you put the work in and don't give up you will only come back stronger. This mindset and motivation can be shared with any age and any level of play.
Jimmy Beck, a senior from Crossroads School in Los Angeles, California, spends most of his time in the gym working on his game. Beck had been apart of the school team since his freshman year but never got the chance to prove himself due in part of being outshined by other talent and the attention that the school team was gaining with additions like Shareef O'Neal. Beck didn't see much playing time in his first year with Varsity in his junior year. Though he didn't play much, he was still improving his game every day and would see the hopes of playing more as a senior on this team.
During a preseason game in his senior year, Beck drove into the lane and performed a euro-step move and planted his knee the wrong way. Beck went down, screaming in pain and scared. After Beck had been rushed to the hospital, he was told that he had suffered a torn ACL. The same injury that Derrick Rose and a lot of athletes encounter. Being a close friend, I knew that this was going to be hard on him and was saddened by the news because this season would have been his breakout year.
I sat down with Jimmy to discuss how the process has been going and how his mind is during all of this and with everything going on with personal life, social life, and especially school and the college process. I asked him,
"What was going through your mind when you first found out that you had injured your knee?"
Beck: "In my mind, it was just pain and shock. I had always thought about how I never wanted to tear my ACL and that was always a fear and I didn't initially know that I tore my ACL but I knew something was wrong, I was just in shock."
"Do you think that this injury has played a huge impact on your basketball career and your mobility?"
Beck: "In my basketball career, yes. I shifted my college application to focus more on academics instead of trying to pursue division 3 basketball because if I'm not going to play professional, then why waste my time. I did miss the whole season and the start of club, which I am sad about but you just gotta keep pushing forward. This injury has helped me with leg strength because before the injury I never really worked out my legs and that is something I focus on a lot now."
High School athletes may give up after a severe injury because of the surrounding environment and other personal priorities (school work, college process, social life, etc). High school students often lack the foresight to comprehend the possibility of future success in athletics. This coupled with the chance of reinjury can keep a high school student from stepping back out on the court. Athletes like Jimmy Beck might think that they aren't going to go anywhere with this career so what is the point in continuing to suffer injuries like such if nothing good will come out of it.
Professional athletes have many motivational forces helping them bounce back from injury. For one, these athletes are being paid millions of dollars to play this sport and they may feel that they have worked hard their entire life to get to where they are so why give up now? The money aspect is definitely the biggest motivation. Sitting out with an injury and missing out on ad revenue and not making as much as you could be is something that athletes think about a lot.
I decided to sit down with trainer, Joanna Stover, from Crossroads School to find out what her experience and point of view was on athletes dealing with injury and sidetracked by outside noise and distraction. I asked her,
"What are different ways you've seen high school students cope with injuries either severe or small?"
Stover: "We have seen everything from extreme panic, screaming, to absolute shock and silence in the moment of the injury, and then everybody tends to handle the injury differently. Some people look at an injury as a challenge and something to overcome and some people look at an injury as a defeating moment and they just decide that athletics isn't for them and they stop pursuing."
"Is there something about the high school athletic spirit that pulls a kid back/helps him recover more than a professional basketball organization and a big check?
Stover: "I don't think so, I think that money is a huge motivator. I would say the opposite. If you're someone who's missing out on hundreds of thousands of dollars in ad revenue or just the paycheck from the team in times that you're spending on the bench, you're going to be a lot more motivated to get better."
Stover agrees that it tends to be a lot harder for high school athletes to come back from injury than it is for someone that does it for a living. Early on in Derrick Rose's career, he was the face of his franchise and one of the young faces of the NBA and in being apart of that, he was making a lot of money. Now that Rose has made a fortune from basketball and has battled his own health for many years, he has reached the point that he just wants to play, no matter the paycheck. I have witnessed this in Jimmy Beck's recovery. There is no money to be made and there is no prize but there is the feeling of being able to play that can't compare to anything. Beck and Rose both share the same mindset and toughness that they won't just give up on their bodies and their game. They both just want to feel the game again and are doing whatever it takes to get back on the court. Both athletes show that it's not just about the money or the fame, but that it's about the love. Even though Jimmy Beck and Derrick Rose play at a very different level, they both look through the struggles and setbacks and find the reason why they picked up a basketball in the first place. They locate the reason why they fell in love with this sport and they won't let themselves take that love away.
---